What is QuadPay?
QuadPay is a payment platform that gives shoppers a way to pay for their purchases in four interest-free installments spread out over six weeks, rather than in one lump sum. When you select QuadPay as your payment method, the company's automated system evaluates your eligibility based on its "customer assessment guidelines." QuadPay doesn't share the details of those guidelines, only saying that it "use[s] information from a number of third parties" to determine whether you qualify.
If you're approved, you'll pay 25% of your order total at the time of purchase. The remaining 75% is divided into three equal installments and automatically billed to your linked credit or debit card every two weeks until you're paid in full. While QuadPay charges no interest, customers do pay a $1 "convenience fee" per installment. But provided you make all of your payments on time, you pay no other fees for using the service.
How does this work?
Once you have selected all the items you would like to purchase, add them to you cart, and at the time of checkout, select the CheckOut with QuadPay option. You must have a minimum of $35 in your cart to qualify for QuadPay. 

Once you check out on the LUXURIOUS BASICS website, you will be routed to the QuadPay website to continue entering the necessary payment details.

At any time, you can log in to your 

QuadPay account to see your payment schedule and make a payment before the due date. Otherwise QuadPay will automatically take the money from your selected payment method every 2 weeks.
Also, we have installed a feature that will give you an estimate of each payment broken down into 4.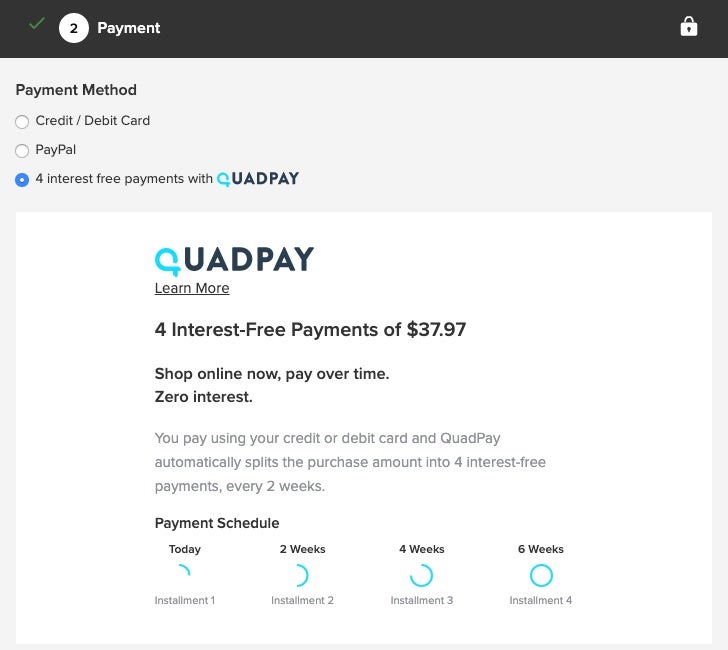 As you move through the checkout process, you'll continue your order on the QuadPay website:

Once there, you'll provide your mobile number so that QuadPay can send you a confirmation code. (It uses this in part to verify your identity.) You'll be prompted to create a QuadPay account by entering your date of birth and other basic personal information. This is also where you give QuadPay permission to evaluate your purchase request:
If you're approved, QuadPay will generate an installment schedule based on your order total, and you'll link your credit or debit card to make your first payment: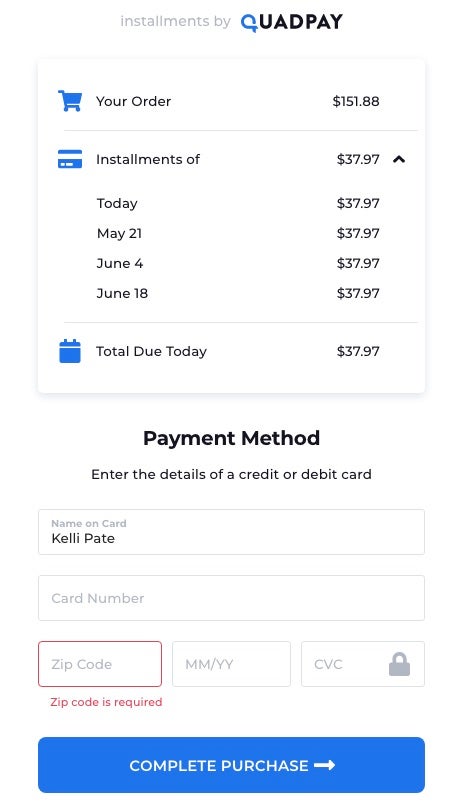 Your card information is saved for future installment payments, which QuadPay automatically deducts every two weeks on your scheduled due dates. You can manually pay off your balance early without a prepayment penalty, but you can pay only one installment at a time. You won't be able to make one lump-sum payment and call it a day.
What If I'm Not Approved?
If you're not approved, you'll receive the following notice: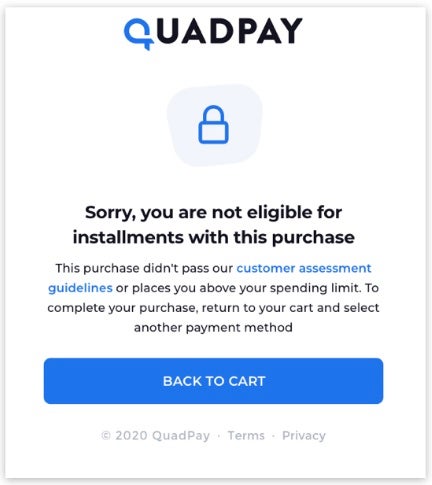 Do I need to sign up for the QuadPay feature?
You will not need to create an account with LUXURIOUS BASICS for this feature.
When you are making a purchase simply choose 
QuadPay

as your preferred method of payment method at checkout. However, o
nce your first order is approved, your 
QuadPay

account is automatically created. All you need to do is visit 

www.quadpay.com

 to set up a password, and you will be able to make more purchases using 
QuadPay 

by simply entering your log in details upon checkout. You can use this account to shop for other vendors as well. This is not limited to just LUXURIOUS BASICS. 
To sign up for a QuadPay account, you need to meet a few basic requirements:
You live in the U.S.
You're at least 18 years old.
You have a valid and verifiable mobile number.
You have a U.S.-issued credit or debit card (cannot be prepaid).
HELP!! I didn't get the SMS Verification Code when signing up!
If you are having issues receiving our SMS verification code, please try the following:
Refresh the connection in between the handset and carrier by restarting your handset and removing and reinserting your SIM card.

If you are still unable to receive the message, you will need to contact your carrier as your may have short code blocking enabled.
Once confirmed, please try the verification process again to finish your account set up.
When will my first payment be taken?
Your first installment will be due at the time of checkout.
In all cases you will be notified on screen if the first payment is due there and then or if it will be deferred by 2 weeks.
Why are the installment amounts different?
For some purchases, if your total order amount exceeds your
QuadPay

approved-spending limit the first payment may be higher than subsequent payments. 
QuadPay 

will show you how the installments are split before you pay. The image below will show you what your screen should look like breaking down each payment and its respective due date.
Is there a cost for using Installments by 

QuadPay

?
Installments by
QuadPay 

is a free service offered by retailers to shoppers - there are no upfront fees charged or any interest incurred. However, there are late fees associated if you do not meet the scheduled payment on the listed due date.
 T
here is also a $1 installment fee, for each payment that you make. 
Debts cards, credit cards and checks are also available to use. 
Is 
QuadPay

safe and secure?
We understand how important security is so we ensure that your personal information is protected. 
QuadPay 

is a PCI DSS Level 1 certified compliant Service Provider organization. 
PCI DSS is a comprehensive set of requirements created by the Payment Card Industry Security Standards Council to enhance cardholder data security and to ensure the safe handling and storage of sensitive credit card information and data. 
This is the highest level of security in the payment industry. 
When will my order ship if I pay with 
QuadPay

?
As always, all orders ship within 1 – 2 business days. Using QuadPay will not change that process. 
Can I call and speak to someone at 
QuadPay

?
QuadPay is available online 7 days a week in the USA 10 am – 5 pm EST at 1-888-274-3159. There is a BOT that can answer simple questions, there is also a contact us form that can be completed and sent back using the following link: 
There is a direct email they can be reached at:
You can also LiveChat from 9 am - 9 pm EST.
If I request an exchange, and still have remaining installments with 
QuadPay, 

will I receive a refund?
Installments will still be due to 
QuadPay

and you will receive a store credit from us.
Benefits of using QuadPay?
QuadPay doesn't pull your credit report

 

when you make a purchase request, so you won't be dinged for a

 

hard inquiry.
You can pay off larger purchases over six weeks

 

with just 25% down and no interest.
You can have multiple QuadPay orders

 

at once.
Unlike some other installment payment services,

 

you can use QuadPay anywhere Visa is accepted, both online and at brick-and-mortar stores.
Provided you make all of your payments on time,

 

the only cost to use QuadPay is a $1-per-installment fee

 

at non-participating retailers.
Late-payment fees are capped at $14

 

($7 the first day, and an additional $7 if you're seven days past due).
QuadPay may report your account activity to the credit bureaus, which can help you build credit if you maintain a history of on-time payments.
By using a rewards credit card to make payments,

 

you can still earn cash back or points for your purchases.